What is Ultherapy?
Here at Renove Med Spa, Dr. Michelle Parsons offers Ultherapy, a state of the art medical procedure utilizing focused ultrasound energy to lift and tighten sagging skin. No scalpel or anesthesia is needed. Ultherapy is great for people who would like tightening and lifting of facial skin without having a surgical facelift. The Ulthera sound energy passes right through the skin and targets the areas you want to be lifted. During a typical 30-60 minute Ultherapy treatment session, an ultrasound applicator is passed over each region of the face. The sound waves emitted deliver small, controlled amounts of energy into the deep layers of skin and soft tissue. The beauty of Ultherapy 'uplifting ultrasound' is that it is a face and neck treatment that improves skin laxity in a meaningful way but completely non–surgically.
​
Ultherapy is not just for the face
During bathing suit season, the decolletage is an area that becomes more front and center, so to speak. Our friends - time, sun and gravity - work their deleterious effects on this sensitive skin area, leaving our skin here looking more weathered than maybe the rest of our skin does. The skin of the chest is definitely more thin and more fragile than a lot of other skin areas, such as back skin, which is some of our thickest skin and so does not tend to age as badly compared to chest skin. Not only can the skin of the decolletage appear more crepey and have more uneven pigment from repeated sun exposure, but this thinning of the decolletage skin can also lead to dropping of the breasts, and nobody wants that!
Welcome Ultherapy ultrasound skin tightening of the decolletage!
Jowls
Ultherapy works great for sagging jowls, where the skin is fatty, heavy and drooping. Ultherapy is able to reduce this fatty heaviness, tapering the jawline, for a more youthful look. Ultherapy can restore a more youthful shape to the face from a square to the inverted triangle.
​
Nasolabial Folds
Ultherapy also works well to minimize the drooping of excess skin that we get along each side of the nose or lower cheeks. You may think that you need to fill in these areas with a filler, but the real problem may be that fat and loose skin is just falling down due to the effects of gravity. With ultherapy, we can target this area and minimize the fattiness and tighten up that skin. Again this will restore the more youthful balance of the face with the center of gravity higher in the cheek areas.
​
Neck
Ultherapy can tighten up that loose skin underneath our necks as well. The area that Ultherapy works the best is that area just underneath the chin and extending into that curve of the neck. Ultherapy won't duplicate the results of a surgical neck lift. But if you have somewhat loose and fatty skin in your upper neck, hanging just beneath your chin, Ultherapy can improve this area, and improve your profile.
​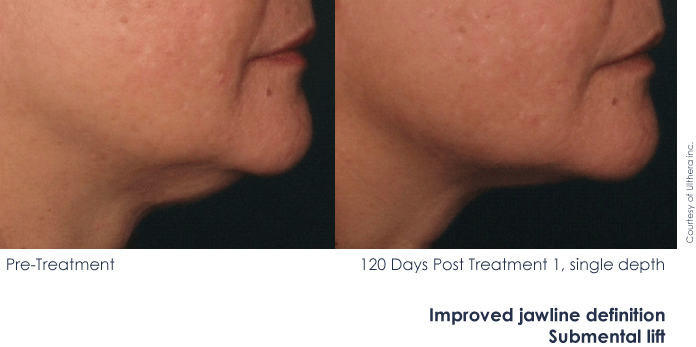 ​
Eyelids and Brow Lift
Perhaps one of the most dramatic areas that Ultherapy can improve on without surgery is the eye area and creating a brow lift, helping to lift heavy drooping eyelids. Ultherapy can make the eyes appear more open, more awake, rested and more youthful. This may be a subtle change but this small difference can have a significant effect! Our clients really love this part of the Ultherapy results.
​
Overall, Ultherapy works wonders to taper, redefine your facial contours, while eliminating fatty, droopy areas, and lift and tighten the skin around the eyes and underneath the chin, for a more youthful sculpted look. The stars in Hollywood do this treatment, and now you have access to this age-defying procedure right here in Delaware at the beach. Dr. Parsons is pleased to bring this cutting edge highly sought after technology to you to help you look your best. If you think you may be a candidate for Ultherapy, please give us a call to set up a complimentary consultation with Dr. Michelle Parsons at 302-227-1079.
​
How Does Ultherapy Work?
Unlike other nonsurgical procedures, Ultherapy is able to treat not only the skin itself but the deep foundation below the skin that is addressed in cosmetic surgery. This initiates your body's collagen rebuilding process without disturbing the surface of your skin. One treatment triggers the body's own regenerative process of building new collagen to lift and tighten the skin — gradually, naturally, and from the inside out.
​
​
What Can I Expect During Treatment?
The actual treatment involves passing an ultrasound handpiece over the facial areas being treated. Gentle heat is delivered to the tissue to lift and tighten loose skin without cutting or otherwise disrupting. You will be pre-treated with Tylenol and or Ibuprofen. Otherwise, no pain medication is needed. In just 30 to 60 minutes, your body's own healing responses will be signaled to gently and gradually restore skin and underlying tissue. Best of all, this requires no preparation or recuperation! Aside from lifting and tightening, Ultherapy also stimulates new collagen production, which assists in maintaining a youthful appearance. Lifting takes place primarily over 2 to 3 months. You will be able to immediately return to normal activities. The skin may appear flushed temporarily. There may also be swelling, tingling or tenderness which is mild and temporary.
​
​
What Kind of Results Can I Expect from Ultherapy?
After just one treatment with no downtime, your skin will gradually shift back into a more youthful position. Improvements include a sleeker, more defined jawline and tighter skin on the neck under the chin. Sagging skin on the cheeks can be tightened and lifted, which in turn can improve folds from the nose to mouth, folds from the mouth to jaw, and drooping corners of the mouth. Tightening of skin on the forehead can reduce the sagging skin on the eyelids and promote a more open, refreshed look in general. The results of Ultherapy are permanent, just as the results of a face-lift are permanent, 0f course, your skin will continue its natural aging process. While Ultherapy is not a replacement for surgery, it is an inviting alternative for those who are not ready for surgery but looking for meaningful results.
​
​
Ultherapy has been featured on Dr. Oz, Martha Stewart, The Doctors, Barbara Walters, and many other news and media outlets. If you are interested in learning more, please contact us today to schedule a consultation to see if you are a candidate for Ultherapy! A full-face treatment includes the forehead to lift the brows, around the eyes, cheeks, and jowls, and under jaw neck areas. Price ranges from $1,000 to $3,500, depending on areas treated. A surgeon's fee for a facelift may be $5,000 to $6,000 which does not include the additional cost of facility fees, hospital fees, anesthesiologist fees, and more.
​
Ultherapy - Before And After
Photo courtesy of Dr. Michelle Parsons of Renove Med Spa of an actual patient.
​
One week after my Ultherapy Treatment, my husband, after being out of town for a couple of days asked me "what's different about you," he was staring at my face! Not having told him about the treatment I innocently said: "what do you mean?" His response was "I am not sure but your face looks different." I asked "different good or different bad?" He replied "different good, looks stretched." I was surprised that the results were noticed quickly. I found the treatment to be bearable, certainly wasn't pain-free, but tolerable. I was very happy when it was over! For the past 2 weeks following the treatment, my face has been tender which is a reminder that the treatment is continuing to work! I would highly recommend it to all!
I had Ultherapy about 4 months ago by Doctor Michelle Parsons everyone looks at me and says "you look so rested." I would highly recommend this painless procedure. Thank Doctor Parsons and wonderful staff.